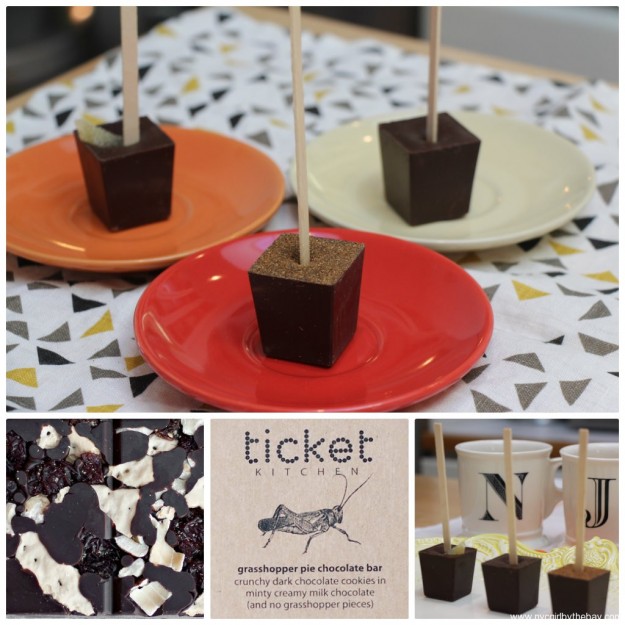 When AmberLee Fawson, a self-proclaimed hot chocolate addict created a recipe for hot chocolate on a stick and posted it to her (insanely popular) blog four years ago it quickly became one of her most popular posts.  She received so many requests to make it available for purchase that she soon realized she had hit upon a unique business opportunity.  AmberLee teamed up with her sister-in-law, Andrea Hancock, and yadda, yadda, yadda, two years later Ticket Chocolate was born.
Except it wasn't actually as quick and easy as that.  As anyone who has ever tried to turn an idea (even a fantastic and super-delicious one) into a reality can attest, building a business is hard work.   There are custom chocolate molds to make, logistics to overcome (ever try to ship chocolate to Florida in August?) and the tricky business of keeping up with demand when you are new to the game.  But the Bay Area sisters-in-law soon got into a groove and have been making gourmet hot chocolate on a stick and artisanal chocolate bars from their factory in San Francisco ever since.
Ticket Chocolate makes their chocolate entirely by hand in small batches. They use only couverture chocolate, a high quality chocolate that contains a high percentage of cocoa butter, to ensure that each square is smooth, rich, chocolate perfection. The chocolate is perfect for gift giving (think Valentine's Day, teacher's gifts and Mother's Day), parties and especially as a delicious, well-deserved treat for yourself.  I've been treating myself to a mug of delicious hot chocolate each night this week-hey, I'm doing research here!  The flavors are creative, fun and delicious.  The team gets inspiration from dinner parties, food magazines and even ice cream.  Anything is fair game.  There was an intriguing customer request for a yellow curry flavor that they tried to make work as well as a few batches of pink peppercorn that didn't quite pan out.  But the flavors that do make the cut are not to be missed.  Try the luscious salted caramel hot chocolate sticks, the mouthwatering hazelnut cherry stuffing or waffle pecan Beloved Bars.  You'll thank me.
For these entrepreneurs, who also happen to be very busy mothers, Ticket Chocolate is more than just a business-it's an opportunity to pursue their passion in an ethical and responsible way.  They buy their cacao from farms that treat their workers fairly and many of their suppliers support training programs for native cacao farmers.   They use recycled and biodegradable packaging as much as possible and equip their production facility with energy saving devices.  You can call it chocolate with a conscience, I call it flat out delicious!