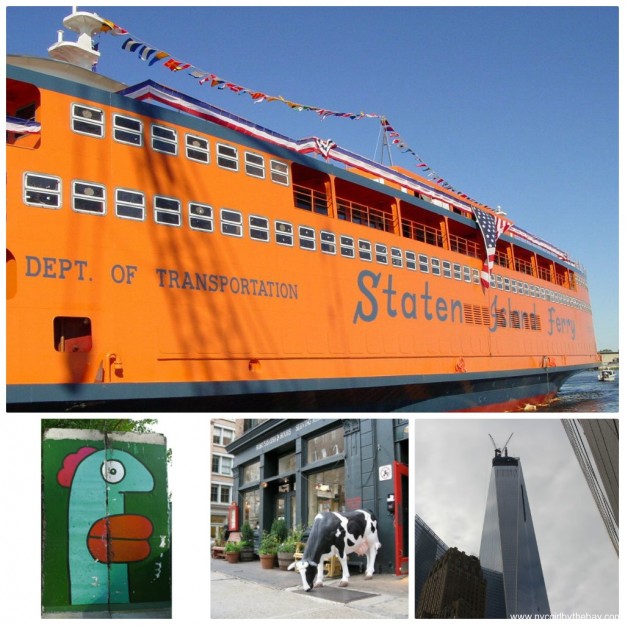 I absolutely loved raising my kids in New York. It's an amazing place to live and has so much to offer. Though we are now firmly planted in the Bay Area we return to NYC several times a year (you can take the girl out of the city…). People often ask me for suggestions when they are planning a trip there with their kids. Like eating an apple, I find that exploring Manhattan with kids is best enjoyed in small bites. Don't try to cover too much ground in one day. Here is one of my favorite ways to spend the day.
1. Stay: The Conrad New York in Battery Park City is especially great if you are traveling with kids. Located in Battery Park City (my old stomping grounds) alongside the peaceful Hudson River, the newly renovated all-suite hotel is beautiful, spacious, contemporary and cool. There are plenty of fantastic restaurants adjacent to the hotel itself as well as in Battery Park City and Tribeca.
2. Breakfast: You can't go wrong with Pick-A-Bagel (for perfect NYC bagels), Francois Payard Bakery (for fantastic croissants, salads, sandwiches, authentic Parisienne macarons and delicious coffee) or Whole Foods Market in Tribeca (for a large, fresh and varied prepared food section).
3. Go: Spend the morning at the Children's Museum of the Arts. The CMOA's mission is to extend the benefits of art to all children through their classes and art-filled interactive exhibits. I love to spend hours meandering through museums but spending the day at the MOMA or Guggenheim can be difficult with children. The CMOA's many exhibits composed of artwork created by children from all over the world will bring out your child's inner artist and will, no doubt, leave you all feeling inspired.
4. Lunch: Head over to Bubby's Pie Company, a Tribeca fixture for over 20 years, for a dose of comfort food done right. Their mission: defending the American table. They care about where their food comes from and how it is prepared (locally sourced ingredients, sodas made to order by hand). Be sure to leave room for dessert-they're a pie company, after all.
5. Play: After lunch head over to one of the many nearby playgrounds. Our favorite is on Pier 25. It contains an 18-hole miniature golf course, sand volleyball courts as well as a huge playground with two swing sets, a large water area, multiple play structures, a climbing wall, a nearby skate park and a snack bar.
6. See. If you are in the mood to check out some sights, or if your kids are not the playground type, take a ride on the Staten Island Ferry where you can enjoy beautiful views of the harbor as well as the Statue of Liberty (without the crowds and long lines). Sign up for a tour of the 9/11 Memorial, built to honor the nearly 3,000 people who perished in the terror attacks of September 11, 2001. The memorial's two reflecting pools sit in the footprints of the Twin Towers and feature the largest manmade waterfalls in North America. Admission is free, but visitor passes are required.
7. One (actually three) More Things to check out in lower Manhattan before you leave:
(a.) the 12 foot high, 8 foot wide, graffiti-covered piece of the Berlin Wall in Kowsky Plaza;
(b.) the Irish Hunger Memorial right outside the Conrad Hotel, and
(c.) the huge slide in Teardrop Park.
8. Dinner: Luckily for you, you won't have to sacrifice a great meal in order to keep the kids happy. The following options are both child friendly and super delicious. Check out City Hall Restaurant for excellent seafood, Landmarc (Tribeca) for expertly prepared, traditional bistro fare with terrific steaks, a wallet friendly and varied wine list and delicious mini desserts or the (aptly named) Tiny's and the Bar Upstairs for well made, American fare (be sure to try the kale salad) in a charming setting. After dinner head back to the hotel for a well-deserved nightcap and good people watching in the lobby atrium. Bring activity books for the little ones and toast a great day in the city with the kids – who knew?